Line 4:
Line 4:
 
 
 

==Character Biography==

 

==Character Biography==

 
+

Perry most likely used to a secret agent in the O.W.C.A., who fought Dr. Doofenshmirtz daily. At the same time, he was the pet platypus of Phineas and Ferb, and pretended to be a mindless pet when with them, since if his identity was revealed to them, he would have to go away forever. One day, Doofenshmirtz was able to finally defeat Perry, and turned him into an evil cyborg, dubbed the Platyborg, and made him general of his army of Norm Bots, which he used to enslave the Tri-State Area. Phineas and Ferb never saw Perry again, and deeply missed their monotreme. Platyborg was used to enforce law in the town, and, armed with many weapons, became a figure to be feared in the town. It would seem that he had no feelings, as he would harm anybody, even children, if Doofenshmirtz were to order him to do so.

 
+
 
+

One day, [[Phineas Flynn (1st Dimension|Phineas]], [[Ferb Fletcher (1st Dimension)|Ferb]], [[Perry the Platypus]], and [[Heinz Doofenshmirtz (1st Dimension)|Dr. Doofenshmirtz]], from the [[1st Dimension]] came over to this Tri-State Area per use of an Other Dimension-inator. Doofenshmirtz met his 2nd Dimension self, and the two chatted, with the 2nd Dimension Doof explaining that he had defeated Perry (whom the prime Doof still battled regularly) and turned him into a minion of his, subsequently followed the Platyborg entering the room, dramatically. Phineas, Ferb, and Perry shortly entered the room, with Doofenshmirtz angry at his 1st Dimension counterpart for bringing a secret agent (Perry) to his lair, but Doof-1 didn't recognize Perry, who was in his mindless pet persona.

 
+
 
+

Doofenshmirtz sent Platyborg to hit Perry, and he did (which angered Phineas). Perry shakes it off, which makes Doofenshmirtz tell Platyborg to hit Phineas and Ferb instead. This leaves Perry no choice but to rise up and punch him away, revealing his identity to his owners... and Doof-1. The trio ran away from the Norm Bots that chased them, and fell off the side of the building, saved by Perry deploying his parachute.

 
+
 
+

Platyborg goes after them, cutting their parachute, and making them fall on the side of the building. Platyborg dropped down next to Perry, who had his legs stuck in a skull, and the two went into combat. As Perry is about to fall down, Phineas and Ferb trap Platyborg in the parachute, and Platyborg falls down onto the street. Phineas, Ferb, and Perry fall with him. Once they all land, Platyborg gets up to attack them. He is able to dodge a broken Norm Bot that falls behind them, but is then hit by a taxi. After the trio escapes, he gets off the taxi and pays the driver.

 
+
 
+

Platyborg later appears after the 1st Dimension Phineas, Ferb, and friends are caught in a trap by the two Doofenshmirtzes. Perry shows a hologram of Monogram in the shower, and Platyborg among others, look away, allowing the heroes to escape. Platyborg flies after them as they escape in the mine carts, but he loses them.

 
+
 
+

Sometime later, Platyborg joins his master as they enter the 1st Dimension Danville to unleash an army of Norm Bots to take over the town. The kids of the town combat the Norm Bots using Phineas and Ferb's recreated inventions. Once Phineas and Perry get to the top of the Doofenshmirtz Evil Incorporated building, Platyborg shows up and fights them. Perry takes on his 2nd Dimension counterpart, and the two brawl until Perry is able to knock Platyborg back, and he gets his tail stuck in a high voltage block of energy, and is electrocuted, cooking the chicken that is on his head, and turning the corn in his hands into popcorn - a kernel of which Perry takes in his mouth and swallows.

 
+
 
+

After Phineas destroys the satellite controlling the Norm Bots, Doofenshmirtz is arrested, and [[The Resistance]] enters Danville, Perry the Platyborg comes to, and goes on all four, becoming a good, mindless pet once more, and is rushed by the eager 2nd Dimension Phineas and Ferb, overjoyed to finally have their pet platypus back (even if he is part metal, which Phineas exclaims make him extra cool). The group goes back to the 2nd Dimension, and Platyborg salutes Perry one last time, thanking him for what he has done, and goes for a new, peaceful life with his reunited family. It is unknown if he has returned to the O.W.C.A. as a secret agent, or has retired. ("[[Phineas and Ferb The Movie: Across the 2nd Dimension]]")

 
 
 

==Background Information==

 

==Background Information==
---
Revision as of 23:30, 19 August 2011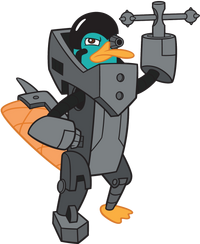 Perry the Platyborg is the leader of Heinz Doofenshmirtz's army of Norm Bots, and the pet of Phineas Flynn and Ferb Fletcher.
Character Biography
Perry most likely used to a secret agent in the O.W.C.A., who fought Dr. Doofenshmirtz daily. At the same time, he was the pet platypus of Phineas and Ferb, and pretended to be a mindless pet when with them, since if his identity was revealed to them, he would have to go away forever. One day, Doofenshmirtz was able to finally defeat Perry, and turned him into an evil cyborg, dubbed the Platyborg, and made him general of his army of Norm Bots, which he used to enslave the Tri-State Area. Phineas and Ferb never saw Perry again, and deeply missed their monotreme. Platyborg was used to enforce law in the town, and, armed with many weapons, became a figure to be feared in the town. It would seem that he had no feelings, as he would harm anybody, even children, if Doofenshmirtz were to order him to do so.
One day, Phineas, Ferb, Perry the Platypus, and Dr. Doofenshmirtz, from the 1st Dimension came over to this Tri-State Area per use of an Other Dimension-inator. Doofenshmirtz met his 2nd Dimension self, and the two chatted, with the 2nd Dimension Doof explaining that he had defeated Perry (whom the prime Doof still battled regularly) and turned him into a minion of his, subsequently followed the Platyborg entering the room, dramatically. Phineas, Ferb, and Perry shortly entered the room, with Doofenshmirtz angry at his 1st Dimension counterpart for bringing a secret agent (Perry) to his lair, but Doof-1 didn't recognize Perry, who was in his mindless pet persona.
Doofenshmirtz sent Platyborg to hit Perry, and he did (which angered Phineas). Perry shakes it off, which makes Doofenshmirtz tell Platyborg to hit Phineas and Ferb instead. This leaves Perry no choice but to rise up and punch him away, revealing his identity to his owners... and Doof-1. The trio ran away from the Norm Bots that chased them, and fell off the side of the building, saved by Perry deploying his parachute.
Platyborg goes after them, cutting their parachute, and making them fall on the side of the building. Platyborg dropped down next to Perry, who had his legs stuck in a skull, and the two went into combat. As Perry is about to fall down, Phineas and Ferb trap Platyborg in the parachute, and Platyborg falls down onto the street. Phineas, Ferb, and Perry fall with him. Once they all land, Platyborg gets up to attack them. He is able to dodge a broken Norm Bot that falls behind them, but is then hit by a taxi. After the trio escapes, he gets off the taxi and pays the driver.
Platyborg later appears after the 1st Dimension Phineas, Ferb, and friends are caught in a trap by the two Doofenshmirtzes. Perry shows a hologram of Monogram in the shower, and Platyborg among others, look away, allowing the heroes to escape. Platyborg flies after them as they escape in the mine carts, but he loses them.
Sometime later, Platyborg joins his master as they enter the 1st Dimension Danville to unleash an army of Norm Bots to take over the town. The kids of the town combat the Norm Bots using Phineas and Ferb's recreated inventions. Once Phineas and Perry get to the top of the Doofenshmirtz Evil Incorporated building, Platyborg shows up and fights them. Perry takes on his 2nd Dimension counterpart, and the two brawl until Perry is able to knock Platyborg back, and he gets his tail stuck in a high voltage block of energy, and is electrocuted, cooking the chicken that is on his head, and turning the corn in his hands into popcorn - a kernel of which Perry takes in his mouth and swallows.
After Phineas destroys the satellite controlling the Norm Bots, Doofenshmirtz is arrested, and The Resistance enters Danville, Perry the Platyborg comes to, and goes on all four, becoming a good, mindless pet once more, and is rushed by the eager 2nd Dimension Phineas and Ferb, overjoyed to finally have their pet platypus back (even if he is part metal, which Phineas exclaims make him extra cool). The group goes back to the 2nd Dimension, and Platyborg salutes Perry one last time, thanking him for what he has done, and goes for a new, peaceful life with his reunited family. It is unknown if he has returned to the O.W.C.A. as a secret agent, or has retired. ("Phineas and Ferb The Movie: Across the 2nd Dimension")
Background Information
Gallery
References